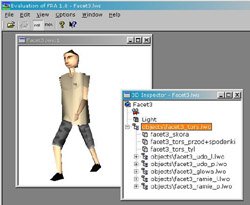 LEGAL: The program is for free, but you CAN'T use 3D models from it in your own productions.

Eval 1.0

This is the application that uses our native 3D engine. It does not use any DirectX or OpenGL. Eval doesn't use hardware 3D support as well. This is very algorithmic, mathematic system. It implements such features as:
* phong shading (in real-time!)
* guard shading
* specular, diffuse reflection model
It is possible to load scenes and objects created in LightWave program.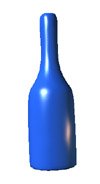 Look at big quality of rasterization, that is impossible even on the newest 3D accelerators!

How to install and configure program:
Download file 'evalins.exe' (576 KB) (which is self-extracting ZIP).
Create directory in which you want to keep the application
ex. c:\eval
Execute 'evalins.exe' and select the directory you've choosed above.
Run 'eval.exe' from your dir. Here it is 'c:\eval\eval.exe' to start the application.
Select OPTIONS -> CONTENT DIRECTORY... from menu and select SAMPLES subdir from your installation program. Here, 'c:\eval\samples'.
Now you can open and watch sample 3D models.